Hi everyone and welcome to our guest designer for april.
Its Chloe Neilson. Chloe has entered some gorgeous creations onto this site in the past few months, so i am very pleased to have her as guest designer for the month.
Hi there, my name is Chloe Nielsen and I live in Queensland with my husband and 2 children. I have been scrapping for 7 years now, but only seriously for 4. (Having children means so many pics to scrap!!) Scrapping for me is my creative outlet, my stress relief and a perfect way to record our precious family memories. I find it hard to define my style, I'm not even sure I have one, but I guess you could say most of my pages are clean and simple with the odd non-scrappy item added. I am super excited to join the team at SUYS this month and hope I can inspire you ... even just a little bit :-) Thanks chloe. You can visit her here.
And here is chloes gorgeous example from this months sketch, using some of wicked princesses gorgeous flowers.
Thanks so much chloe.
We have a little surprise for you all tomorrow night, pretty paper petals are having a blog hop and they will be passing through here. Make sure you jump on the hop as there is some awesome prizes to be given away.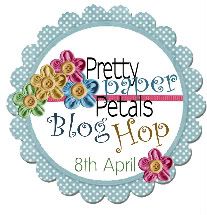 Well thats all for now. Who is going to apply for the design team??
Kerry xx